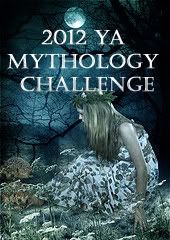 Challenge:
YA Mythology Challenge
Host: For Those About to Read...
2012 Level: 10 books
- FAILED
Thoughts: This was fun, and I may complete one more book before the end of the year, but I doubt I will make it. I will try again, though.
Books:
1. Starcrossed by Josephine Angelini
2. Pantheons by E. J. Dabel
3. Lies Beneath by Anne Greenwood Brown
4. Initate by Tara Maya
5. Sirenz by Charlotte Bennardo & Natalie Zaman
6. Sufis at Culver by Richard Gwyn Davies
7. A Lloyd Alexander Collection by Lloyd Alexander
8.
9.
10.