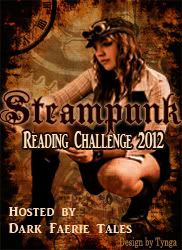 Challenge:
Steampunk Challenge
Host: Dark Faerie Tales
2012 Level: Gaslight (6 books)
- FAILED!
Thoughts: I am close to completing, but I think I only have one more steampunk in my TBR pile for this year, but I will try again next year for sure.
Books:
1. Camera Obscura by Lavie Tidhar
2. Mongrel by K. Z. Snow
3. The Battle of Blood and Ink by Jared Axelrod & Steve Walker
4. Cuttlefish by David Greer
5.
6.