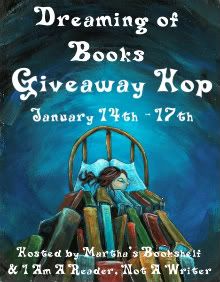 Aside from participating in challenges, I also want to try participating in a giveaway hop once a month. I love entering to win books, and I am sure you do, too. As I am just getting started, I am only able to give away books from my own shelves.
For the Dreaming of Books Giveaway Hop, I will be giving away
Refuge on Crescent Hill
by Melanie Dobson. My bookclub read this in late summer, and everyone agreed it was a fun Romantic Suspense with Christian undertones. We actually ended up with an extra copy, so the book I will be giving away has never been read.
To enter, leave a comment below telling me what book you are dreaming of reading (don't forget to include your email address!).
+1 for becoming a GFC follower
Don't forget to check out the other great giveaways: