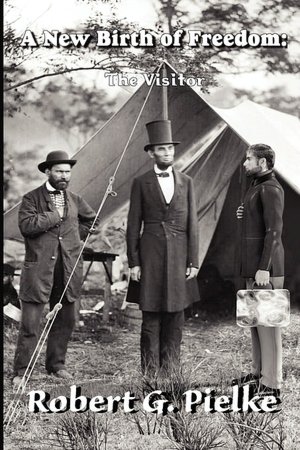 A New Birth of Freedom: The Visitor
by Robert G. Pielke
published by Altered Dimensions
2010
Why Read?: Review
Challenges: e-Book, 100 Books in a Year
Robert G. Pielke has quite the imagination! His A New Birth of Freedom series tells the story of giant aliens sent back in time to be defeated during the Civil War. The Visitor is just the start of this fascinating series that mixes history with science fiction.
Edwin Blair, a history professor, is sent back to the Civil War area with one mission: gain President Lincoln's support in defeating the Pests, an insect-life alien race that has overtaken the Earth in Blair's time. With the help of his "map machine" (aka computer), Blair does manage to convince Lincoln and his advisers that he is indeed from the future and that something bad is coming their way. However, as soon as the Pests land, history begins changing and Blair is unsure of anything anymore...including why the Pests are trying to wipe out the human race.
The Visitor is one interesting read. Pielke makes sure the action never lags and that Blair's visit to the past is historically acurate, postulating believable outcomes as Blair starts to change history. The historical figures really come to life on the page in ways that they never do in history books. The Pests are also very unique as the reader just starts to really find out about them when the story ends with a great cliffhanger.
The Visitor is a must for any fan of sci-fi and the Civil War. Robert G. Pielke shows great skill in imagination and storytelling, leaving the reader eagerly anticipating the second A New Birth of Freedom novel, The Translator.