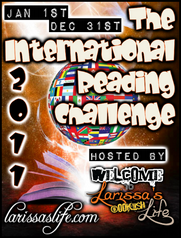 Every time I looked at the rules for the International Reading Challenge, they seemed to change. I started with International bestsellers and ended up with books that took place in multiple countries. Because of these shifting rules, I am still two books short of the higher end of the Local level (5-10 books):
1. Shutter Island by Dennis Lehane
2. The Red Tent by Anita Diamant
3. The Lovely Bones by Alice Sebold
4. Pride and Prejudice by Jane Austen
5. Instructions for a Broken Heart by Kim Culbertson
6. The Prince of Mist by Carlos Ruiz Zafon
7. The Midnight Palace by Carlos Ruiz Zafon
8. The Paradise Prophecy by Robert Browne
9.
10.